Professor Amanda Hallay Takes a Look at This Year's Oscars

With the obvious exception of host Neil Patrick Harris' 'tightie whities' and a reference to Twitter in his opening number, the 87th Academy Award ceremony seemed like a blast from the past, transporting viewers back to Oscar nights of bygone times. Award recipients used the podium to raise awareness of ALS and Alzheimer's, Civil Rights and Equal Pay, their impassioned pleas harking back to an era of a social responsibility that often seems lost in a world of Instagram photos, showbiz gossip and celebrity Tweets. And instead of the often too self-referential approach of recent Oscar nights (a show about showbiz that sometimes forgets its purpose), the 87th Academy Awards took on the reverence and elegance of the '40s and '50s, where nobody was out to shock, losers were good sports, and jokes were kept on just the right side of propriety.
This year, Oscar behaved himself. When word got out that Lady Gaga would be performing a tribute to The Sound of Music (in honor of its 50th birthday), the 'net was abuzz with speculation (Maria Von Trapp in a flame-throwing bustier?), yet Gaga's graceful, respectful, and almost operatic performance was in perfect step with an evening out to celebrate film, not celebrities. Much has been made of the omission of Joan Rivers from the always moving In Memorium segment, yet her absence from the roll call seemed to highlight the Academy's overall intent; to offer an evening that focused on film (and not 'Hollywood' in general).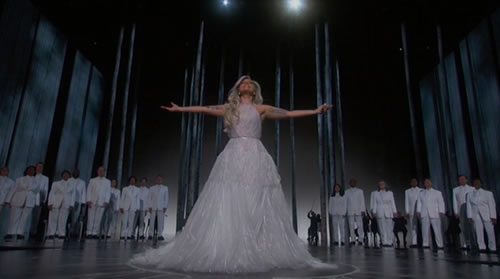 Were there awkward moments? Of course (and what would The Oscars be without them?), yet John Travolta's ongoing weirdness is now so ubiquitous that he's almost like a creepy uncle we only see once a year at a family gathering, and one's heart went out to Terrence Howard, whose autocue malfunctioned as he introduced The Imitation Game, the actor left to improvise oddly as he waited for his scripted words to once again roll. Host Neil Patrick Harris made a brave start, but his role of Emcee lacked the genius of his Tony hosting, and there was more than one embarrassed silence when jokes fell flat.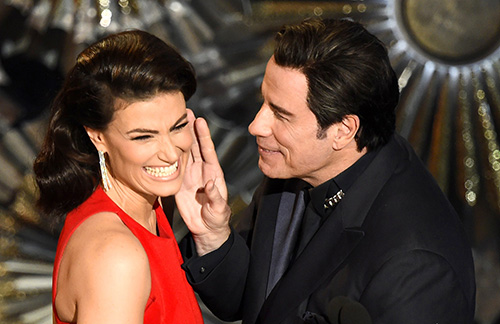 Still, these were minor moments in an otherwise smooth - and very earnest - ceremony.
This deferential approach began on the red carpet, stars looking grown-up, sophisticated, and above all, modest. Nobody was flashing too much skin, and nobody dressed to shock, with even J-Lo's overly plunging neckline almost invisible in her flesh-toned Elie Saab gown.
Some critics have slammed the ceremony for lacking in laughs and 'wow factor', yet personally, I feel that this respectfully retro approach struck just the right note for a year where the nominated movies concerned Alzheimer's, ALS, and Gay alienation – subjects deserving of our respect.
Amanda Hallay is a full-time faculty member at LIM College and cultural commentator.