By: Fred Steinberg
Unless you are a historian or a dedicated fan of Franklin D. Roosevelt, our 32nd President, you probably have never heard of Campobello Island. This Canadian island lies in the Bay of Fundy, just across a small bridge from the northeast corner of Maine. A summer home for the Roosevelt family starting in 1885, it's where Franklin spent most summers until being struck with polio at the age of 29 in 1921. Franklin enjoyed hiking, swimming and picnicking with his family on the island and it was there he learned to sail and acquired his love of the water. Campobello, which Franklin always referred to as his "beloved island," is known to most because of the play and movie, "Sunrise at Campobello," which celebrated the story of Franklin's adjusting to living with his polio disability and re-entry into politics.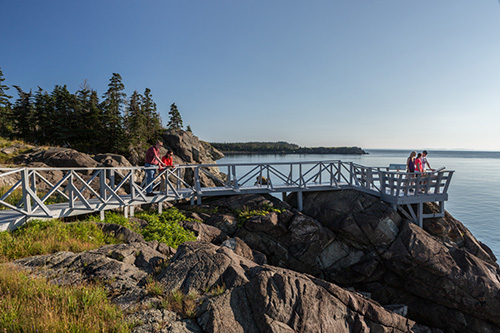 But the prime reason over 100,000 visitors come to the park each summer is that it's home to Roosevelt Campobello International Park, the only U.S. National Park located in a foreign country. The 3,000 acre Park, open from Memorial Day to Columbus Day, contains a Visitors Center, Museum, hiking trails, formal gardens and four restored "cottages," formerly built by wealthy Roosevelt neighbors. Guided tours are available.
But the highlight for most visitors is Roosevelt "cottage," the centerpiece of the park. Purchased by Franklin's mother in 1909 and later gifted to Franklin and his wife Eleanor, the 34-room, beautifully restored "cottage" is designed in early American colonial style and is furnished as it was in 1920, the year before Franklin was stricken with polio. The cottage had no electricity or telephone. Light was provided by kerosene lamps, heat by seven fireplaces and drinking water brought in by cart from a well on the island. The cottage is now filled with family art, photos and a wide collection of memorabilia. Guides stationed throughout the home offer information, descriptions of the historic furnishing and answer visitor's questions.
Of the four additional restored "cottages" in the park, one, The Fireside, is a full service restaurant serving lunch, dinner and Sunday brunch. The Hubbard and Wells-Shober cottages host the very popular "Tea with Eleanor" program which features hostesses who serve tea and cookies and talk about Eleanor's years of social activism. Eleanor regularly held afternoon teas for neighbors and visitors and they became a beloved tradition at Campobello.
Campobello Island is easily accessible via a free bridge from Lubec, Maine. The three by five mile island is an outdoorsmen's paradise with miles of hiking and biking trails, camping facilities, excellent birding and water activities including, sailing, kayaking, whale watching and fishing. There are three automobile "carriage" roads which traverse the island and pass bold cliffs, woodlands, bogs and stunning seascapes. Six observation decks are located at particularly scenic sites throughout the island. There are a number of small motels, guest houses and restaurants, but few man-made sites other than the well maintained Mulholland Point and East Quoddy Light Houses, the latter of which is located at the Northeastern tip of the island. Go to the Quoddy Light House at sunrise and you will be among the first in the U.S. to witness the dawn. And on a clear day you can see forever – well Nova Scotia anyway.