by Aishwarya Mahulikar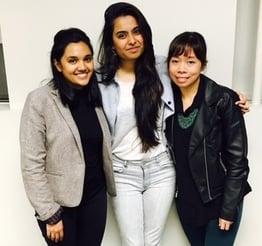 Recently, myself and two other graduate students, Vardhini Krishna and Anna Glorioso completed a presentation on the topic of the "sharing economy." The sharing economy, also referred to as "collaborative consumption," is a business concept that highlights the ability for individuals to rent or borrow goods rather than buy and own them. While it certainly isn't a new concept, the sharing of resources has been used for years in B2B (for example, agriculture) and B2C (self-service laundries), recent market drivers and customer behaviors have made the idea a phenomenon.
The "current events" assignment we worked on was part of our Retail Management class taught by Professor Robert Conrad that involved researching a topic and sharing it with the class. The tremendous growth wave of the sharing economy currently going on in the U.S. retail industry and some shocking statistics urged us to pick the sharing economy as our research topic for the project.
With ride sharing services like Uber and Lyft, as well as space-sharing services like WeWork gaining a high momentum, it is estimated that the value of this peer-to-peer lending market will reach $1,000 billion by the year 2025 (Statista).
While the statistics are compelling, I feel it's worthwhile to note that this project was especially intriguing to us as we are all international students, with myself and Vardhini both coming from India and Anna hailing from the Philippines. We really enjoyed the entire process from researching to presenting it in class as it was an unfamiliar topic for us being new to this country and its retail industry.
The biggest challenge while working on the project was to break down the seemingly endless amounts of information available on the topic and to compile it in the most relevant and pertinent way. We were able to put together the 46 page paper in about five days, which was a bit of an accomplishment.
I look forward to working on many more projects at the LIM College Center for Graduate Studies and I am sure LIM will provide me with only the best opportunities ahead. One of the many things that LIM has taught me is to push myself to do the best!