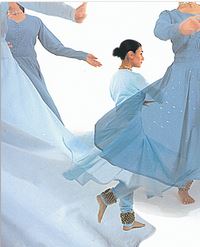 You may not be able to travel to India but tomorrow (7/30), you can pretend that you're there! The Queens Museum Annual Passport Thursday stops in India with a dance performance at 7 pm by the Parul Shah Dance Company.
The company performs rhythmic patterms of amazing intricacy combined with some crazy beats on the tabla...One group of strong and weak beats is topped by the next at two or three times the speed.
Finish the night off with a visit to little India in Jackson Heights, Queens for some unique shopping and of course, eating! Some of the best Indian food can be found along 74th Street beginning at Roosevelt Avenue.
Try the Jackson Diner for delicious curries and tandooris and definitely have the mustard greens. For dessert go to Rajbhog Sweets to sample syrup-soaked jalebis or creamy milk-fudge squares of barfi. Or, head to Shaheen's for some Pakistani nutty sohn halwa or tutty fruity pera or coconut chum chum. It is all yum, yum!
Admission to the Queens Museum for students is only $4.
http://www.queensmuseum.org/2015/06/passport-thursdays