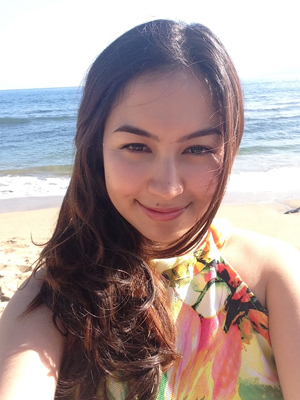 Some people dream of great accomplishments, while others stay awake and do them – Anonymous
Growing up in the Philippines, I've always dreamed of studying fashion in NYC. I got my undergraduate degree in economics, but I've always been intrigued by the creativity and beauty of the world of fashion. So after graduating, I decided to do a 180 and visit my sister who lives in New York, and take a short fashion course. I enjoyed my experience, but my stay was short-lived and I eventually had to return home.
I worked for a couple of years in Manila as an assistant to a celebrity stylist. It was a great way to immerse myself in the crazy and spontaneous side of the industry. Someone told me that if anyone really wanted to be in fashion, they should experience living and working in the center of it all—New York City, the fashion capital of the world.
The MPS Fashion Marketing program at LIM College Graduate Studies became the obvious choice for me. No other school in the city offered the same Master's program. Months after sending my application and the nerve-racking wait, I was more than pleased to receive my acceptance letter to the program beginning in the fall of 2014.
Everything was falling into place and before I knew it, I was on my way to New York. The city was just as vibrant and exciting as I remembered. I wanted to make the most out of my time here so I also took on an internship because my classes were at night. I interned for the women's clothing brand Altuzarra in the wholesale department, and worked closely with the sales team in organizing the collection for market week—which is just as busy as fashion week.
I didn't realize that the workload from school and the responsibilities from my internship would be difficult to balance. On top of that, I had to adjust being away from the familiarity of home and my loved ones. I told myself to snap out of it. Who was I to complain? I was studying in one of the best fashion schools…and in the best city in the world!
All it really took was some getting used to, a lot of sacrifices and following through on the journey that I embarked on. After all, it is not our decisions that make us who we are but our commitment to them. I was out of my comfort zone but I've never been more comfortable. I enjoyed the independence and the freedom of being on my own.
Don't get me wrong. It wasn't easy to have all these on my plate but, I know that these challenges have helped me develop my character and bring me one step closer to reaching my goals.
This affirmed my dreams and I immediately started looking for schools and programs that would help further my career. I love the artistic side of fashion but with my economics background, I knew that it would have to be supplemented with knowledge of the business side of it. I would really like to work in Public Relations or Marketing for a luxury fashion brand one day and eventually have my own company.