On Thursday, October 8th, Bandier hosted its weekly fitness promotion at its Flatiron store. Bandier is a fitness apparel and accessories company that really encourages its customers to get in on the action. Unlike Lululemon or Athleta, Bandier's focus is on fashion, fitness and music. The store manager explained that the creators of Bandier actually have formal educations and work experience in music, not business, and want to expand their business by focusing on the relationship between music and fitness. The company launched in May 2014 with its South Hampton store and quickly expanded, adding a second location in the Flatiron district (the location we visited). With Flywheel, Tonehouse, and two SoulCycle studios near by, Bandier is in the right spot: the intersection of 21st and Broadway. Inside the medieval-arched doorway are racks of modern high-end, luxury clothing, shoes, and bags, marked with prices that are surprisingly affordable or splurge-worthy.
As boutique fitness becomes more popular, especially in New York City, designers are creating workout gear in more luxurious fabrics and also offering them at extravagant prices; Bandier is a showcase for these designers. The company (via their Facebook page) features "a meticulously curated collection of the most fashion forward luxury fitness designers in the world," along with a careful selection of gear from Stella McCartney, Adidas, Nike, and Reebok. The company is developing a new location on Fifth Avenue and plans to add studio space to all three of the locations.
Every week, the Flatiron store holds free (yes I said free!) group fitness classes, and on Thursday, Katherine Greiner, also known as "KGB," instructed our class. Greiner recently developed a workout class called MOVE, which she offers at a nearby gym and health club, The Movement. The class features a combination of Zumba and Hip-Hop inspired moves. Since it is Breast Cancer Awareness Month, Bandier collected donations and displayed its breast cancer-themed collection front and center, along with bottles of Maple Water, a basket full of Anke's Fit Bakery cookies, and a smoothie recipe from Candice Kumai's new book, Clean Green Drinks. The staff was very friendly and encouraged us to take as many of the free products as we wanted (fine with us).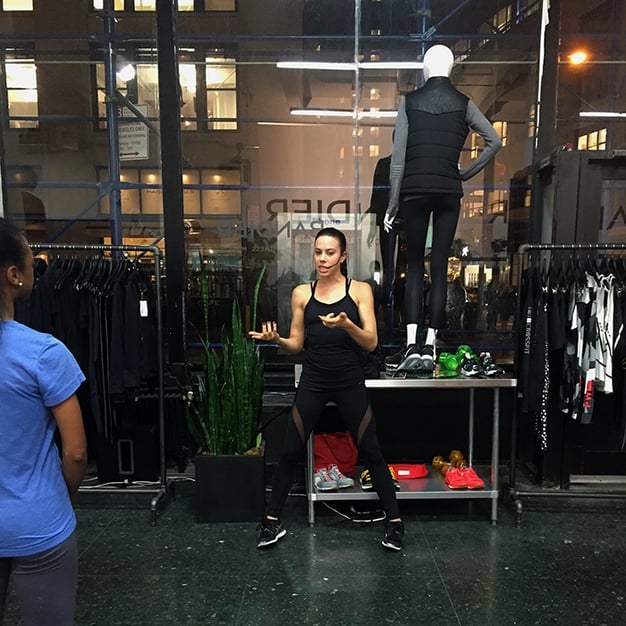 After ooing and ahhing at all of the merchandise, we signed in and prepared ourselves for the workout ahead. Katherine lit up the room with her big smile and positive personality and welcomed us to Bandier. She encouraged us to wave to the pedestrians passing by that would no doubt stare at us as we danced around. Since the free classes are an hour long, each workout begins with a proper warm up. To begin the hard stuff, Katherine demonstrated each of the dance moves. But there was no time to lose focus; she flipped through those moves at lightning speed. In this class, it was all about fast-paced choreography that changed with every song, with the purpose that the songs would all play one after another, and at the end of the session, we would perform all the moves we learned. As a self-proclaimed professional Zumba dancer, I found that the moves and rhythm came easy to me, but as a T25 lover (a workout built on rigid, muscle-toning movements), Suzanne admitted that she was a little bit (or a lot bit) confused on how to move. But no matter which way we swayed or jumped, Greiner made us feel fierce.
For attending the class, we all got a 15% coupon, so, by the end, I was ready to shop. On the sale rack, I found a gorgeous purple and white snake print top from Varley; with the sale and discount, the $65 shirt became $26 even! To end the night we then posed for a quick photo-shoot with the beautiful Katherine Greiner.
Bandier has it all when it comes to athletic apparel retailers: free classes, free products, unique designs, and innovative operations. Not only is Bandier the place to work out, it is a place to gain knowledge on the plans of inventive fitness companies. So sign up for Bandier's newsletter online to receive 10% off and information on all of their offerings—and take advantage of one of the free classes!