by Nicole Porras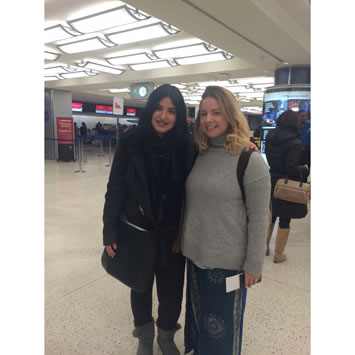 ...And We're Off!
It's been a while since I've been on a plane and I completely forgot how much I love to fly. I was a bit anxious at first, especially since the weather was kind of bad. The last thing I wanted was for my almost 24 hours of traveling to be extended because of bad weather. It's especially nice to have Ali (a fellow LIM'er and friend) here with me for the ride. It definitely makes traveling a lot more fun and less stressful.
As I write this, we are flying somewhere over St. Louis, and although I want to sleep very badly, I know I have to stay up. The reason I want to stay up is because in Australia it's still in the afternoon there, and I need to try and sleep according to their time schedule or else, I am going to crash at about 10 am when I arrive in Melbourne.
It is definitely very exciting, and I can't wait to see Melbourne and be surrounded by a whole new culture and lifestyle.
So, for those of you reading this, let me answer a question many before you have already asked. Why Australia? Well…my very first volunteer opportunity at LIM was helping backstage for Fashion Pallete NYC. It was a fashion show that featured Australian-based fashion designers and I was surrounded by beautiful accents and people all day long. It was on that day that I truly fell in love with Australians. So you can imagine how pleased I was to discover that LIM offered a study abroad program in Australia.
I've heard nothing but good things about Melbourne. Apparently it's one of the most livable cities in the world. I can't wait to keep you guys posted on my adventures! More details about my journey, coming soon!