by Nicole Porras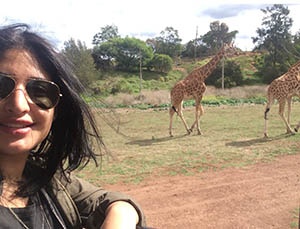 While spending a semester abroad at RMIT in Melbourne, Australia, some friends and I decided to go to Werribee Zoo, which was unlike anything I have ever experienced before. My friends (from LIM College and elsewhere) and I have the spirit of 10-year-old girls so we were pretty excited to experience Werribee, which is known for its African theme and animals.
We had to take public transport to Werribee South (where the zoo is located) and it took about an hour of traveling to arrive at our destination. The first thing we did when we got there was hop on the Safari Bus Tour and needless to say, I felt like Eliza Thornberry. We saw so many beautiful animals including giraffes, rhinos, hippos, antelope and more. It was truly such a great experience.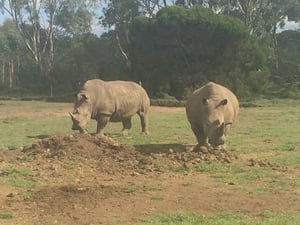 Throughout the bus tour, there was an Australian tour guide telling us the history and facts about all of the animals. I remember passing this lonely ostrich and the tour guide told us that the ostrich was on a timeout because he loved to chase tour buses. I thought that was really funny. The weather was perfectly sunny, and it felt refreshingly new to enjoy so much natural beauty.
I think what really moved me the most was the fact that the animals looked so happy and healthy. The animals had so much space to roam and live freely, which really made me appreciate this zoo even more. It was an amazing feeling to be so close to these large, precious animals. It reminded me that there is so much to see in the world, and it reminded me that there is so much beauty all over the world.
It really made me want to go to Africa and other countries that I haven't seen yet. There is so much to see and do, and I hope to experience more not only here in Australia, but in other countries around the world as well. Life is good my friends!