by Danielle Infantino
Mid-semester break is finally here, and with almost a week of no classes, it was the perfect opportunity to head to one of the largest cities in Australia.
When I first arrived in Sydney, I wanted to start exploring as soon as possible considering I only had three days here. From the airport, my friends and I headed straight to our hostel, which was called "The Original Backpackers." I had never stayed in a hostel before, so this was a new experience.
If I could give any advice to future Aussie travelers, or those traveling in other parts of the world, I would say:
You might be staying in a room with people you don't know, so be prepared!

Make sure you leave all real valuables at home.

Pack light.

Be open and meet new people.
After getting to our room, we immediately dropped our bags and started exploring the city. Our first destination was the extremely popular and beautiful Bondi Beach.
The drive to the beach had to be one of my favorites so far. I was able to watch the people and see how the city turned into a beach town as we got closer. I also noticed an abundant amount of Italian-themed restaurants and shops, which reminded me a bit of home.
Going to the beach has always been one of my favorite things to do. When I first saw the beach, I honestly didn't think that it was real.
Not only was the beach just so stunning and the water so blue, but there was a section of the beach that had a pool. Waves coming in from the ocean flowed in to fill the pool. I have never seen anything like it, and didn't even know something like that could even exist.
We wanted to have the full Australian beach experience, (Our friends back at the village suggested.), so we stopped for lunch and had some Fish n' Chips at a small shack, called "The Bucket List." (Just a tad ironic.)
One of the top things on my bucket list is to visit the Sydney Opera House, and with this trip, I knew I'd be able to cross that off the list.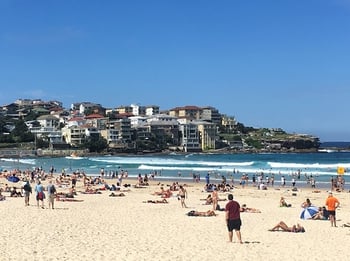 The receptionist at the hostel suggested a route that allowed us to walk and see more of the city. We started the day super early, grabbing breakfast and then embarking on this forty-five-minute walk.
After spending the morning being super touristy, we wanted to take a walk over the Sydney Harbor Bridge. As we walked across the bridge, almost halfway, there was a spot where you could look out at the entire harbor. I was hesitant at first, because I have a terrible fear of heights, but I knew that this would be a once in a lifetime opportunity.
After climbing about 16 flights of stairs, I made it to the top to see this outstanding view. Then I immediately knew I did not regret my decision.
Overall on this trip to Sydney, I learned that you can't let anything stop you from doing these once in a lifetime opportunities!